.
Currency Strength Trading Is The Key
The best forex indicator you can possibly use is the currency market itself, and the individual currencies that comprise each pair is what drives all movements and trends in the forex market. If all of the EUR pairs are strengthening that would be a good time to consider buying the EUR/USD, EUR/JPY any other pair Euro pair, like the example shown below.
Two Heat Map Signal Examples:
If the EUR is strong and the USD is weak, that is the best time to buy the EUR/USD. A simple concept ignored by forex traders, but highly effective for making pips.
If the NZD is strong and the CAD is weak, that would be the best time to buy the NZD/CAD, another simple example of using currency strength for your forex trading decisions.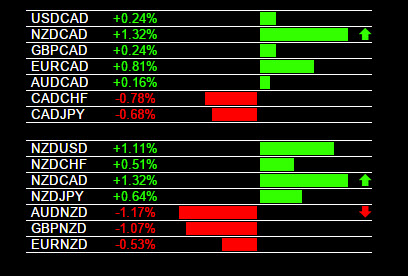 It's time to let go of the standard technical indicators and to start to use smart trading systems like The Forex Heat Map®. Let the power and liquidity of the forex market drive your trade decisions and start making more pips now. The heatmap signals can be demo traded starting the first day you have it.
Does The Forex Heatmap® Provide Live Signals?
Yes, the heatmap provides live signals for buying and selling 28 pairs and it is running all of the time during market hours. You can use the heatmap to trade in the main trading session or in the Asian session, as well as after volatile forex news drivers that are shown on the world economic calendar.
Is The Forex Heatmap® a Stand Alone Tool?
No it is not, however if you enter forex demo trades based on the signals of The Forex Heatmap® you will likely make pips anyway. But when you combine the heatmap signals with a complete trading system, including trading in the direction of the larger trends, trading in the main trading session, and monitoring the world economic calendar, the heatmap turns into a powerful ally in your overall trading system. Traders can also check support and resistance levels and combine the signals from the heatmap with position sizing for total risk management on every trade entry. The Forex Heatmap® will make your forex trading business more successsful, for any beginner or experienced trader.
How Can I Try The Forex Heatmap?
You can subscribe to The Forex Heatmap® at Forexearlywarning.com for $19.95 per month. The Forexearlywarning.com website is loaded with free information about the heatmap, like a complete tutorial, plus our trend based trading plans and complete forex trading system. Please join us for our fee weekly forex webinars.